In the ancient city of Banaras, also known as Varanasi, time seems to stand still as history and spirituality converge. The bustling streets reveal a tapestry of vibrant colours, as merchants display their wares and pilgrims seek solace in the sacred Ganga. The air is filled with the aroma of incense and the sounds of prayers, creating an enchanting symphony of devotion. Every corner holds a story, every step an opportunity to delve oneself into the rich tapestry of Banaras' cultural heritage.
Mesmerising Tourist Destinations in Varanasi
The city of Varanasi, also known as Banaras, is famous for some of the most mind-blowing, peaceful, and soul-enriching destinations that will surely leave visitors in awe. While you're travelling from Pune to Banaras here are a few attractions that you could explore:
It is a place where Lord Buddha preached for the first time after attaining enlightenment. It is situated near a village in Sarnath. This stupa has existed for 1500 years. It serves as a focal point for meditation and pilgrimage. It is one of the four major pilgrim sites related to the life of Gautama Buddha, collectively known as the Four Holy Places of Buddhism.Make sure to include this destination in your itinerary on your tour from Pune to Banaras.
Ramnagar Fort, located on the eastern bank of the Ganges, is a magnificent 18th-century structure that showcases the grandeur of the bygone era. With its architectural splendour and historical significance, Ramnagar Fort offers a glimpse into the royal heritage of Varanasi.If you are visiting Banaras from Pune this fort is worth exploring.
Sarnath holds immense significance in Buddhism as the place where Gautama Buddha first taught 'Dharma'. The serene ambience, the ancient stupas, and the peaceful gardens create an atmosphere of tranquillity and introspection. Do not forget to add Sarnath to your itinerary while you create a Banaras tour plan from Pune.
Indulge in the Flavors of Banaras
Varanasi is also vividly known for its delicious cuisine, thus a perfect place for food lovers too. Indulge in the famous Banarasi Paan, Malaiyyo, and delectable street food like Kachori Sabzi and Tamatar Chaat. Grab the opportunity to savour mouth watering sweets such as Rabri, Gulab Jamun, and Jalebi. 
Create Serene Memories at Niraan - The Tent City, Varanasi
While you visit from Pune to Banaras and look for options to have the best Varanasi experience, Niraan – The Tent City, Varanasi is a reliable option to explore.
Our well thought packages at Niraan – The Tent City, Varanasi provide world class hospitality, well planned city tours and other facilities such as clubhouse for creating new bonds, spa for unwinding, business centre for professional meets and cafe to experience some mouthwatering cuisines.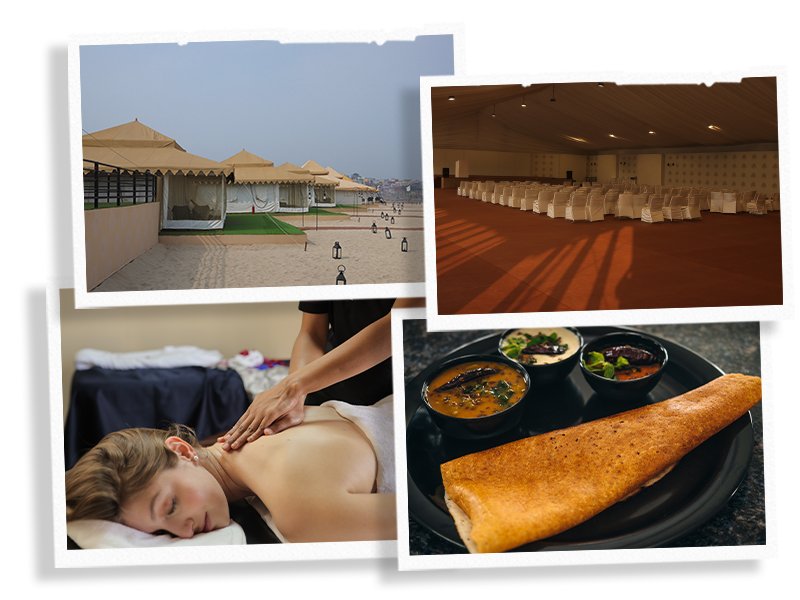 Travel Options from Pune to Banaras
Pune to Banaras By Flight
Several airlines operate direct flights from Pune to Banaras making it convenient to travel between the two cities. The approximate travel time is around 2 hours and 30 minutes on a direct flight, but the flight time may vary. Be sure to check for the best deals and book your tickets in advance.
Pune to Banaras By Train
Varanasi Junction is well-connected to Pune Junction via regular train services. The journey takes approximately 24 to 30 hours, depending on the train. While you're travelling from Pune to Banaras plan your travel and make reservations accordingly.
Pune to Banaras By Car
A well-established network of roads make journey by car also a comfortable choice for travel. The journey can take around 20 to 24 hours. While you're visiting Banaras from Pune on your own, this is also one option you could consider.
Travelling on a Pune to Banaras tour will transport you to a world steeped in history, spirituality, and cultural richness. From exploring ancient temples and witnessing captivating rituals to savouring the local delicacies, every moment in Varanasi is a soul-stirring experience. Make your journey even more memorable by choosing Niraan-The Tent City, as your luxurious abode.
Find solace in the city's aura, and create serene memories that last a lifetime. Plan your Varanasi tour from Pune and embark on this unforgettable journey today.