With India set to host the highly anticipated ICC Men's Cricket World Cup 2023, the excitement in the cricketing world is palpable. Among the five cities selected to organise matches, the city of Lucknow in Uttar Pradesh is all geared up to host five fixtures during the 46-day extravaganza starting from October 5. For the first time since 1996 that the state of Uttar Pradesh will host ICC Men's Cricket World Cup 2023 matches, making it a momentous occasion for cricket enthusiasts in the region.
The Atal Bihari Vajpayee Ekana Cricket Stadium in Lucknow will be the focal point of the cricketing action. For the people of Lucknow, this event is nothing short of a dream come true. Since the establishment of the Ekana stadium in 2016, cricket enthusiasts have eagerly awaited a momentous match like India versus England. Hosting several international matches, including recent Indian Premier League fixtures, the stadium has proved its mettle, making it a fitting choice for Cricket World Cup 2023 matches.
As the countdown to the 2023 ICC Men's Cricket World Cup begins, Lucknow stands ready to showcase its passion and love for cricket, making this sporting spectacle an unforgettable experience for all involved. While you are in Lucknow, Varanasi, the nearest and highly recommended tourist destination, awaits you with its rich history and spirituality.
Located by the banks of the sacred River Ganges, Varanasi is a city steeped in history and spirituality. Known for its ancient temples, vibrant culture, and mesmerising rituals, Varanasi attracts pilgrims, travellers, and scholars alike. Its charm lies in its bustling ghats, aromatic street food, and the profound spiritual experience it offers to all who visit. So, after witnessing the cricketing extravaganza in Lucknow, a visit to Varanasi will undoubtedly complement your journey with a unique and enriching cultural experience.
How to Travel from Lucknow to Varanasi:
Travelling from the capital city of Lucknow to the spiritual heart of Varanasi is an enchanting journey that can be undertaken via various modes of transportation.
Lucknow to Varanasi By Train:
One of the most convenient options is to board a train from Lucknow to Varanasi. Several trains operate daily between the two cities, providing a comfortable and picturesque journey. The travel time is approximately 4 hours, depending on the train's schedule and stops.
Lucknow to Varanasi By Road:
For those who prefer a road trip, there are well-maintained highways connecting Lucknow to Varanasi. The approximately 314-kilometre journey can be covered by car or bus, taking around 5 to 6 hours, depending on the traffic and road conditions.
Lucknow to Varanasi By Air:
Travellers looking for a quicker option can opt for a domestic flight from Lucknow to Varanasi. The flight duration is around 1 hour, offering a convenient and time-saving way to reach the spiritual city.
Enjoy a Relaxing Stay at Niraan - The Tent City, Varanasi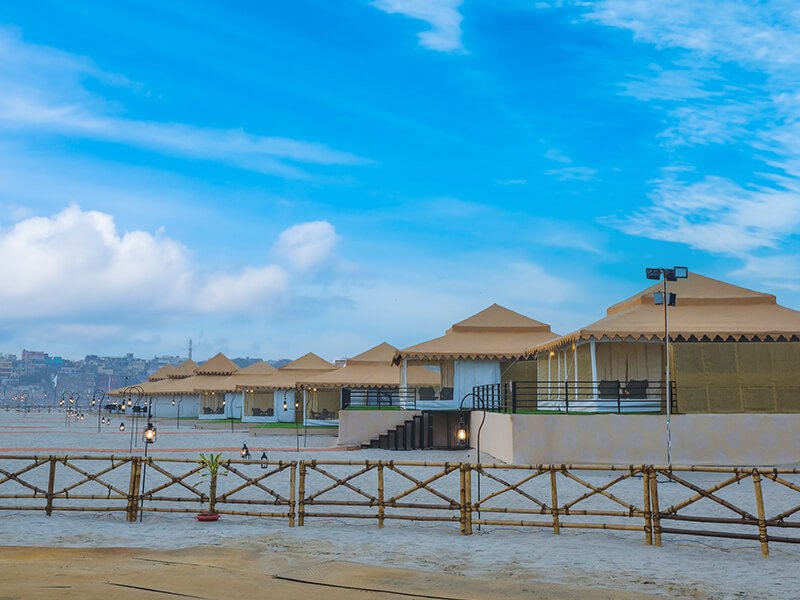 For a unique and unforgettable experience, consider staying at Niraan – The Tent City, Varanasi. Nestled amidst the serene landscape, this luxury-cottage accommodation offers a blend of comfort and rustic charm. Enjoy modern amenities while immersing yourself in the tranquil beauty of nature. The stay here allows you to rejuvenate your senses and witness the cultural richness of Varanasi up close. 
Discover the enchanting boat ride along the ghats, an integral part of your Varanasi experience with Niraan – The Tent City. Immerse yourself in the captivating beauty of the ghat stretch, creating a delightful introduction to the sacred city's allure. Your journey commences at Namo Ghat, promising a memorable experience like no other.
Delve into some of the most Historical places of Varanasi
Varanasi, with its rich cultural heritage, boasts a plethora of attractions that cater to various interests. Here are some must-visit places:
A short drive from Varanasi, Sarnath is a significant Buddhist pilgrimage site where Lord Buddha delivered his first sermon after attaining enlightenment.
Witness the grandeur of the Ganga Aarti, a spiritual ceremony where priests perform rituals accompanied by the enchanting sound of conch shells and bells.
Explore the splendid architecture of this historic fort, located on the opposite bank of the Ganges.
Varanasi's Culinary Delights:
Indulge in the city's diverse culinary offerings, ranging from delectable street food like chaats and kachoris to traditional sweets like malaiyo and rabri. Don't miss trying the famous Banarasi paan, a betel leaf delicacy with a variety of flavorful fillings.
In conclusion, the Cricket World Cup 2023 promises to be a thrilling event for cricket lovers worldwide. While you plan your cricket journey, make sure to extend your trip to explore the spiritual aura and cultural magnificence of Varanasi. From its divine ghats to mouthwatering delicacies and unique Varanasi experience with Niraan – The Tent City, Varanasi has something magical for everyone. Embark on this enchanting journey and create memories that will stay with you for a lifetime.