Varanasi, a city that embodies a rich blend of mythological, historical, and spiritual significance, has stood the test of time to become one of the oldest inhabited cities in the world. With an unmistakable aura of divinity that engulfs every corner, Varanasi offers a spiritual experience that is truly unforgettable. As you make your way through the labyrinthine streets, your senses are inundated with the evocative sounds of conch bells, the enchanting hymns of Aarti, and the delicate fragrance of incense sticks and camphor that permeates the air. The atmosphere is alive with the spiritual energy of pilgrims seeking salvation through their chants and rituals.
If you are planning a journey from Bengaluru to Varanasi, we have the perfect itinerary to help you make the most of your visit. So, without further ado, let's delve into the enchanting world of Varanasi and explore the plethora of experiences that await you.
What are the popular tourist attractions in Varanasi?
With a lot of tourist attractions in the city, Banaras lets you immerse yourself in the spiritual and cultural tapestry, where every place and sight has a unique charm that captures the essence of this ancient city. The city is known to craft experiences that bring to life the history, stories, and traditions that have been woven into the fabric since time immemorial. Niraan – The Tent City, Varanasi provides you with different sets of guided tours that lets us take you on a journey of discovery as you delve deep into the secrets and mysteries of the city, revealing all of those tourist gems that make it one of the most captivating destinations in the world.
Shree Kashi Vishwanath Temple
Shree Kashi Vishwanath Temple is a Hindu temple dedicated to Lord Shiva, located in the ancient city of Varanasi, India. Considered one of the holiest temples in India, it is visited by millions of devotees every year. With magnificent architecture, the temple is adorned with intricate carvings and sculptures that make it one of the most beautiful temples in this city.
For Hindus, Shree Kashi Vishwanath Mandir is one of the most important pilgrimage sites in India. It is said that those who visit the temple with a pure heart and a sincere devotion to Lord Shiva will have their prayers answered. The temple is also renowned for its daily rituals and ceremonies, including the Ganga Aarti, a beautiful and elaborate ceremony that takes place every evening on the banks of the River Ganges.
But the temple's significance extends far beyond the religious realm. It is also a testament to the resilience and strength of the people of Varanasi. Over the years, the temple has been destroyed and rebuilt several times, most recently in the 18th century by queen Ahilyabai Holkar. Despite these challenges, the temple has remained a symbol of hope and faith for the people of Varanasi and a beacon of light in the midst of life's uncertainties.
Niraan – The Tent City, Varanasi offers an exclusive Heritage Walk that takes you through the rich cultural and historical heritage of Varanasi's nearest tourist places. The Heritage Walk covers some of the most iconic locations in the city, including Shri Kashi Vishwanath Temple, The Banaras Hindu University, Ramnagar Fort, Assi Ghat, and Dasaswamedh Ghat.
Shree Kashi Vishwanath Temple is a highly revered temple dedicated to Lord Shiva, located in the heart of Varanasi. On the other hand, Banaras Hindu University is a prestigious institution of higher education that has been instrumental in shaping the academic landscape of India. Known for its intricate carvings, the Ramnagar Fort is a beautiful and historic fort located on the banks of the Ganges River. One of the most popular and vibrant ghaats in Banaras' tourist places, Assi Ghaat is known for its picturesque beauty and lively atmosphere. Finally, the Dasaswamedh Ghaat is a highly respected and historical location in the city, known for being one of the most important ghaats in Varanasi.
The Heritage Walk provides a unique opportunity to explore the diverse cultural and historical heritage of Varanasi's nearest tourist places. It allows you to immerse yourself in the vibrant culture and traditions of the city and gain a deeper understanding of its rich history. The guided tour also offers insights and interesting facts about each location visited, making the experience even more enriching. The walk ends with a sense of awe and wonder, leaving you with unforgettable memories of your trip to Varanasi.
Apart from the luxurious accommodation and delectable food, Niraan – The Tent City, Varanasi also provides exclusive boat rides, giving you the chance to witness the beauty of spirituality as you cruise along the holy waters of the Ganges. You can immerse yourself in the mesmerizing evening Agni Pooja ceremony, performed by a group of dedicated priests to honour Lord Shiva and the universe followed by the ever-beautiful and famous Ganga Aarti. The sight of rishis and sadhus participating in religious activities will leave you awestruck.
Sarnath is an ancient city located about 13 km northeast of Varanasi, which is known for being the place where Lord Buddha delivered his first sermon after attaining enlightenment. One of the most important pilgrimage sites for Buddhists all over the world, it is here where the Dharmachakra or the wheel of law was first set in motion by Lord Buddha. This place is also home to several ancient stupas and monasteries.
Niraan – The Tent City, Varanasi offers an exclusive Sarnath Darshan for its guests, where they can explore the rich history and spiritual significance of this sacred site. The guided tour is conducted by experienced local guides who have in-depth knowledge of the site and its importance in the history of Buddhism.
The Sarnath Darshan takes you through the ancient ruins of the site, including famous and important sites such as Dhamek Stupa, Mulagandha Kuti Vihar, and Chaukhandi Stupa. This tour also covers the very renowned Sarnath Museum, which houses several important relics and artefacts related to Buddhist history, including the iconic Ashoka Pillar.
Along with all the privileges that the guests of Niraan – The Tent City, Varanasi enjoy, we also provide you with an exclusive boat ride along the River Ganges, where you can take in the stunning views of the city's ghats and the lush greenery that surrounds Sarnath. This guided tour is a perfect opportunity for guests to learn more about Buddhist history, culture and tradition, and get an immersive experience of the spiritual capital of India.
Niraan – The Tent City, Varanasi offers a City Tour that takes you on a delectable journey through the local food shops and markets of the city. The tour is perfect for foodies who want to explore the authentic flavours of Varanasi. The tour includes a visit to local food shops that offer mouth-watering delicacies like Kachori, Samosa, Chaat, Malaiyo, Lassi, and much more. You can also explore the famous Banarasi Paan shops that offer a variety of flavours.
The City Tour also takes you to the local markets where you can shop for souvenirs, handicrafts, sarees, and other local specialities. The bustling markets of famous places in Varanasi are a treat for shoppers who love to explore the local culture.
With Niraan's City Tour, you can explore the city's local food and markets with a knowledgeable guide who will give you insights into the city's rich culture and history. The tour is a must-try experience for anyone who wants to explore the famous places in Banaras along with the local flavours and culture.
How to reach Varanasi from Bengaluru?
Attracting thousands of tourists and devotees from all over the world, Varanasi is well-connected by a lot of options like Air, Rail, Road or Water from all over India. If you are planning to visit the city from Bengaluru, there are several options available. You just need to reach Namo Ghat from the Airport/Railway Station/Road and we will further take care of your entire journey, beginning with the mesmerising boat ride.
The most convenient way to reach Varanasi from Bengaluru is by flight. Bengaluru has an international airport, Kempegowda International Airport, which operates several direct and connecting flights to Varanasi. The flight takes approximately 2.5 to 3 hours to reach Varanasi. Airlines such as IndiGo, Air India, and SpiceJet offer regular flights from Bengaluru to Varanasi.
Another popular way to reach Varanasi from Bengaluru is by train. With a well-connected railway network, there are several trains that run between Bengaluru and Varanasi. The journey takes around 36 to 40 hours, depending on the train and route. The most popular trains are the Sanghamitra Express, the Bagmati Express, and the Yeshvantapur-Howrah Express.
If you are among the road lovers, you can also opt for a long road journey from Bengaluru to Varanasi. However, it is not the most comfortable option as it takes around 35 to 40 hours, depending on the traffic and the route is taken. Although, several private and state-run bus operators do offer bus services between Bengaluru to Varanasi with a tour package.
Why Niraan - The Tent City, Varanasi?
Choosing Niraan as your stay during your visit to Varanasi promises an extraordinary experience. With our prime location, modern amenities, unique experiences, and top-notch hospitality, we offer the perfect blend of luxury, spirituality, and cultural experiences for you to get the best of all worlds.
Our luxurious tents are equipped with modern amenities like air conditioning, plush beds, en-suite bathrooms with hot and cold water, and Wi-Fi connectivity, providing a comfortable and luxurious stay and making us one of the best resorts in Varanasi. Our on-site multi-cuisine restaurant and live counter serve mouth-watering meals that will take you on a culinary journey through the flavours of Varanasi and beyond.
At Niraan, we offer various activities and experiences that allow you to explore the spirituality and culture of Varanasi. From yoga and meditation sessions to boat rides on the Ganges and unwinding by the riverside, we've got you covered. Plus, staying with us gives you easy access to the famous Shree Kashi Vishwanath Temple and the mesmerizing Ganga Aarti.
Our warm hospitality and attentive service add to the overall experience, ensuring your stay is comfortable and memorable. Our well-trained and courteous staff provides personalized services and takes care of all your needs, ensuring a seamless and memorable stay. With breathtaking views of the Ganges and the spiritual vibes of Varanasi, Niraan is the perfect oasis for relaxation and rejuvenation
What will be the itinerary if you stay at Niraan - The Tent City, Varanasi?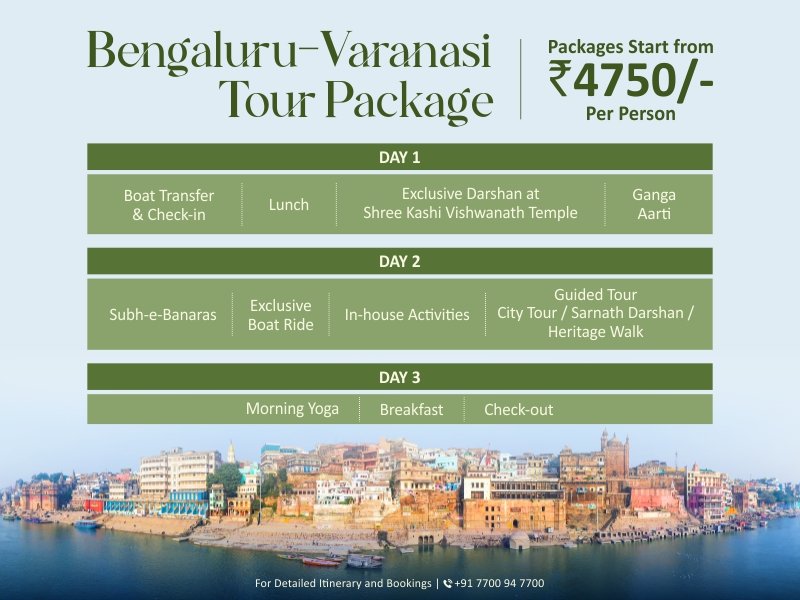 Trip Location: Varanasi
Itinerary Type: 2 Nights / 3 Days
Start Point: Niraan – The Tent City, Varanasi
End Point: Niraan – The Tent City, Varanasi
Accommodation Type: Presidential Villa | Royal Villa | Premium Tent | Deluxe Tent
Package Inclusions: Stay, All Meals, Guided Tours, Boat Ride, In-house Activities, Exclusive Darshan at Shree Kashi Vishwanath Temple, Sarnath or City Tour or Heritage Walk.
DAY 1
Exclusive Boat Transfer Through the Pristine Waters

Welcome & Check-in

A Lunch full of Flavours

VIP Darshan at the Kashi Vishwanath Temple

Magic of Ganga Aarti 

Authentic Dinner with a Live Chat Counter paired with Live Music
DAY 2
Experience the Divine Subh-e-Banaras

Exclusive Boat Ride with Views of the Ghaats 

Breakfast Delicacies

Unwinding In-house Activities

Timeless Flavours at Lunch 

Choose your kind of Guided Tour: City Tour / Sarnath Darshan / Heritage Walk
DAY 3
Unwind with Morning Yoga

Breakfast Served with Perfection

Check-out with Pleasant Memories
Are there any tips or cultural aspects to know before visiting Varanasi?
Varanasi, with its rich cultural and spiritual history, offers a truly unique experience for travellers seeking a deeper understanding of Indian culture. To make the most of your trip, here are some helpful travel guidelines:
It is very important to dress modestly while visiting a temple. This means covering your shoulders and knees. Researching regional customs and traditions beforehand will help you understand any unique clothing codes.
Taking off your shoes before entering temples and other religious buildings is customary in Varanasi and throughout India. Some temples may have additional requirements, such as covering your head or refraining from taking pictures, so it's best to learn about these customs beforehand.
Explore Local Markets and Cuisine
To fully immerse yourself in Varanasi's culture, be sure to try the local cuisine and visit local markets. Street food like chaat and sweets made from milk and sugar are popular choices. Traditional dishes like Kachori, Lassi, and Baati Chokha are also must-tries. And don't forget to explore the local markets for hand-woven textiles, spices, and jewellery.
With these travel guidelines in mind, your trip to Varanasi from Bengaluru is sure to be a truly spiritual and cultural experience.
To fully enhance your Varanasi experience and get the best of both worlds, we strongly suggest staying at Niraan the Tent City. It offers a unique opportunity to experience the stunning natural beauty of Varanasi while enjoying the luxurious amenities of modern living. You can relax in comfortable tents and indulge in the various activities offered by the resort, such as yoga, meditation, and Ayurvedic spa treatments. This combination of natural beauty and modern luxury will make your stay at Varanasi a memorable and fulfilling experience.
Come, connect with the soul of Varanasi with Niraan – The Tent City.