Varanasi also known as Banaras is a place in northern India, that holds significance in Hindu traditions for pilgrimage, death, and mourning in the Hindu world. A place that is given the highest position in Hindu mythology and a place which is extremely close to every Indian's heart. Varanasi is also one of the most visited pilgrimage cities in the world. Absorb Varanasi's spiritual vibes, and witness calming ceremonies. Let your wanderlust awaken, as you discover the allure of this ancient holy city.
Before you plan to travel from Ahmedabad to Varanasi by flight, train or by road hold onto the travel guide we have for your hassle-free travel. 
Modes of travel from Ahmedabad to Varanasi
The travel from Ahmedabad to Varanasi can be done through various modes of travel with surreal and breathtaking views along the way. Witnessing the various stops along the way while travelling by train and experiencing the presence within the ethereal realm of clouds, are all experiences that add up to the Varanasi experience.
The Ahmedabad to Varanasi flight offers a time-efficient and comfortable way to reach Varanasi from Ahmedabad. Several airlines operate flights between Ahmedabad and Varanasi. Some of the major airlines that operate this route include IndiGo, SpiceJet, Air India, and Vistara. These airlines provide regular scheduled flights with varying frequencies throughout the week. Ahmedabad to Varanasi flights can be booked through various platforms, including airline websites, online travel agencies, and travel aggregators. It's advisable to compare prices, check for any ongoing promotions, and book your tickets in advance for an Ahmedabad to Varanasi flight to secure the best fares.
The train journey from Ahmedabad to Varanasi takes you through different landscapes and regions. You will witness the beauty of the Indian countryside, passing through towns, villages, and fields along the way. There are several trains that run this route such as Okha Banaras Superfast, Sabarmati express, Ahmedabad junction to Gorakhpur junction. The average time of travel is 20-25 hours depending upon the train the time may vary.
Popular Tourist Attractions at Varanasi
Varanasi is also known as the 'City of Lights'. This name is justified by the intricate tourist destinations and the auspicious temples and the peaceful Ganga Aarti existent in the city. 
Offering both a sense of divine power and peace, Varanasi also offers delicious food delicacies for tourists to savour. The cultural diversity here is the main attraction but apart from that there are several places that one could visit and tour around to experience the rich tradition of Varanasi. 
Experience the Spiritual Aura of Assi Ghat
Assi Ghat, located at the confluence of the Ganga and Assi rivers attracts visitors for various reasons, including its spiritual ambience, the renowned evening aarti, and the opportunity to experience the local culture. Assi Ghat holds significance in Hindu scriptures such as the Kurma Purana, Matsya Purana, Padma Purana, and Agni Purana. 

Some come here to take a sacred bath, while others seek solace in its serene surroundings. Spending time at the ghat is believed to have a calming effect on the mind and body. 

The name "Assi Ghat" has two mythological origins. According to one tale, Goddess Durga threw her sword after slaying the demons Shumbha-Nishumbha, which led to the formation of a river called Assi. Another story states that Lord Rudra (an incarnation of Lord Shiva) annihilated 80 asuras (demons) in his rage at this location, giving rise to the name "Assi" (which means 80 in Hindi). However, Lord Rudra later regretted his actions and renounced violence, declaring Varanasi as a city of non-violence.

Devotees believe that taking a dip at Assi Ghat, where the Ganga and Assi rivers merge, is equivalent to bathing in thousands of other holy rivers. 

Festivals like Mahashivratri and Ganga Mahotsav also attract a large influx of visitors to Assi Ghat.

Overall, Assi Ghat offers a blend of spirituality, tranquillity, and cultural experiences, making it a must-visit destination for those exploring Varanasi.
Rejuvenate in the Holy Water of the Ganga River
The Ganga river is considered to be one of the most sacred places for pilgrimage and every year thousands of pilgrims come to seek the blessing of the Ganga river. It is a sacred place known for its ability to cleanse individuals of their transgressions and provide solace for those who have lost their loved ones. Apart from large pilgrim attractions along the Ganga river, it also attracts tourists to witness the magnificent Ganga Aarti and immerse themselves in the devotion of Mother Ganga.
Witness the Architectural Brilliance of Dhamek Stupa
It is a place where Lord Buddha preached for the first time after attaining enlightenment. It is situated near a village in Sarnath. This stupa has existed for 1500 years. It serves as a focal point for meditation and pilgrimage. It is one of the four major pilgrim sites related to the life of Gautama Buddha, collectively known as the Four Holy Places of Buddhism. 
Explore the Prestigious Banaras Hindu University
Banaras Hindu University is Asia's oldest residential university. And it nestles over 25,000 students. The sprawling campus of BHU covers an area of over 1,300 acres along the southern banks of the Ganges River. Students at BHU have the opportunity to immerse themselves in the spiritual ambience of the city and participate in various religious and cultural events and festivals.
Explore the Historical Grandeur at Ramnagar Fort
The Ramnagar Fort is a historical fort located in Varanasi, Uttar Pradesh, India. It is situated on the eastern bank of the river Ganges and is known for its architectural grandeur and connection to the Royal Family of Varanasi. It is an 18th-century fort which has numerous antiques in exhibition.
Elevate your Varanasi Experience: Discover Niraan - The Tent City, Varanasi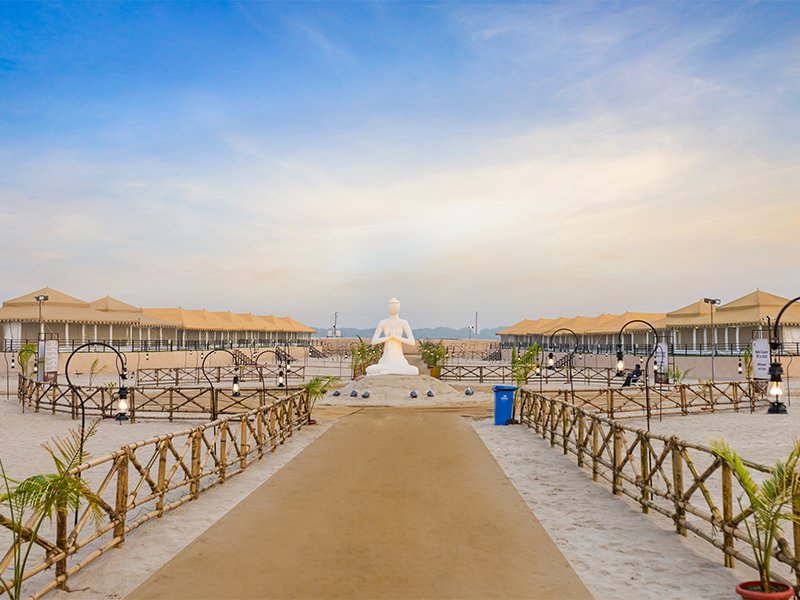 If you're planning to travel from Ahmedabad to Varanasi, you can opt for a Varanasi to Ahmedabad flight, which will transport you swiftly and comfortably to your destination. Experience a captivating blend of ancient mystique and contemporary luxury at Niraan – The Tent City, Varanasi. 
Nestled in the heart of one of India's most sacred cities, this destination offers a transcendent escape like no other. The attractive experiences include:
Tent Accommodations
The tent accommodations are a harmonious blend of traditional charm and modern comfort. Each tent is meticulously designed to provide a luxurious experience, complete with plush furnishings, elegant décor, and an array of amenities that cater to your every need.
Culinary Delights
When it comes to culinary delights, Niraan – The Tent City, Varanasi offers you an exquisite dining experience. Relish the flavours of authentic local cuisine as skilled chefs create a symphony of delectable dishes using fresh, locally sourced ingredients. Each meal at Niraan promises to be a culinary delight for your taste buds.
Planning a flight from Ahmedabad to Banaras? Look no further than Niraan – The Tent City, Varanasi. After your journey, Niraan – The Tent City, Varanasi welcomes you with open arms, offering a haven of tranquillity where you can rejuvenate and unwind. The attentive and warm hospitality of the staff ensures that your every need is met, creating a memorable and seamless experience from the moment you arrive.
Indulgent Cuisine Awaits you Here
Varanasi is a place for all food lovers and food bloggers. The streets of Varanasi are filled with mouth-watering aromas of various delicacies from the rich tradition. There are countless amounts of food items found in the Ghats. Let us take you to through the very famous delectable cuisine that you must try here: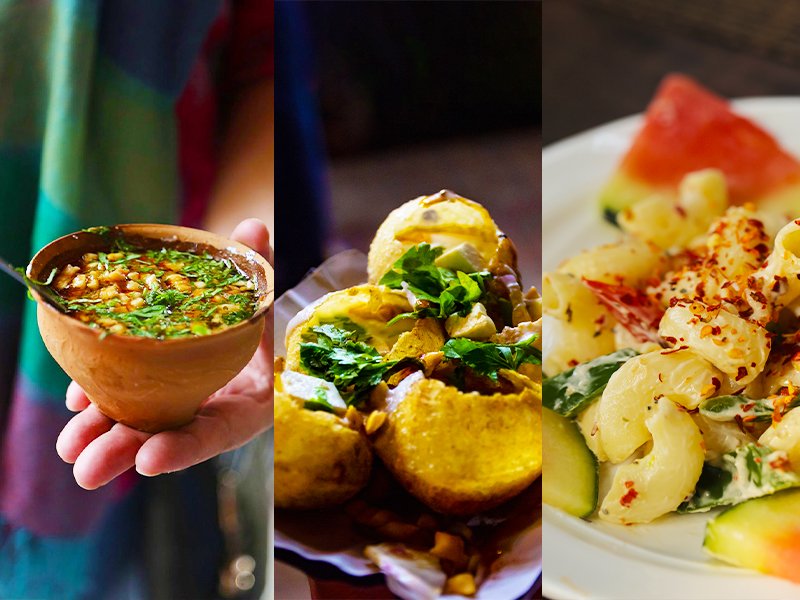 Malaiyyo is the traditional sweet found in the city of Varanasi, it is a sweet fluffy and creamy dessert found during the winter months and the Holi festival. It is believed to be Lord Krishna's favourite dessert and the making and consumption of Malaiyyo is depicted in Indian folklore also. 'Malaiyyo in a Kulhad' moment and share the picture with the world, because that's how special it is.
Best place to visit: Shreeji Milk and Sweets for Malaiyyo at Assi Ghat
When in Varanasi, exploring the local food scene and trying Kachori Sabzi from different places can be an exciting culinary experience. Whether you prefer enjoying it from street food stalls or dining in a local eatery, Kachori Sabzi in Varanasi is a delicious and popular dish that shouldn't be missed. 
Best place to visit: Choti Kachodi Subzi for Kachodi at Thatheri Baazar
Tamatar Chaat is a delicious and tangy street food snack that captures the essence of Varanasi's culinary culture. Enjoying tamatar chaat in Varanasi is not just about the taste but also about the vibrant street food experience. The bustling streets, the aroma of spices, and the joy of eating chaat amidst the lively atmosphere contribute to the overall charm of trying tamatar chaat in Varanasi.
Best place to visit: Deena Chat Bhandar for Tamatar Chat at Dashashmedh Road
It is a popular street food which is similar to the "Rasmalai" dessert. The Chena Dahi Vada is a sweet and tangy delicacy dipped in cold yogurt and garnished with spices like cumin, red chili powder and tangy sauce. The Chena Dahi Vada is a perfect flavour-filled dish for people who like the sweet, tangy and spicy combination.
Launglata is a traditional sweet delicacy that is famous in Varanasi, Uttar Pradesh. It is a speciality of the city and is often enjoyed as a dessert or a sweet treat during festive occasions.
If you visit Varanasi, trying Launglata can be a delightful experience, especially if you have a sweet tooth. Its unique flavour, texture, and cultural significance make it a popular sweet in the city. Don't forget to explore the local sweet shops and indulge in this traditional delicacy during your visit to Varanasi.
Banarasi Paan is known for its rich and flavorful combination of ingredients. The addition of gulkand gives it a sweet and floral taste, while the spices add a touch of warmth and fragrance. Paan holds cultural significance in Indian traditions and is often offered as a gesture of hospitality and goodwill. Banarasi Paan is deeply rooted in the culture of Varanasi and is considered an integral part of the city's culinary heritage.
A popular place to visit: Keshav Pan Shop for Banarasi Pan at Assi Ghat 
Available Itinerary Options at Niraan - The Tent City, Varanasi
Itinerary type: 2 Nights
Accommodation Type: Royal Villa/Premium Tent/ Deluxe Tent 
Package inclusion: Breakfast, Lunch and Dinner
Day 1 
Exclusive Boat Ride through the pristine waters 

Welcome & Check-in 

A lunch full of flavours 

Exclusive Darshan at The Kashi Vishwanath Temple 

Magic of Ganga Aarti 

Authentic Dinner with Live Music
Day 2 
Experience the Divine Subh-e-Banaras 

Exclusive Boat ride with views of ghats 

Breakfast Delicacies 

Unwinding In-house Activities 

Timeless Flavours at Lunch 

Choose your kind of Guided Tour:

City Tour /Sarnath Darshan / Heritage Walk 
Day 3 
Unwind with Morning Yoga 

Breakfast Served with Perfection 

Check-out with Pleasant Memories 
Keep an alarm so that you don't miss those beautiful sunrises on the boat.

Keep your DSLR camera handy and charge your phone to the full.

Try local street food and choose places that are most crowded.

Strike a conversation with the Sadhus and you just might get enlightened.
In conclusion, Niraan – The Tent City, Varanasi offers an extraordinary retreat for travellers seeking a harmonious blend of ancient traditions and contemporary luxury. From the moment you arrive, you'll be captivated by the serenity and opulence this place offers. Whether you're embarking on a Varanasi to Ahmedabad flight or planning a journey from Ahmedabad to Banaras, Niraan – The Tent City, Varanasi awaits you with open arms, ready to provide an unforgettable experience. Indulge in the lavish tented accommodations, immerse yourself in the mystical aura of Varanasi, and allow the impeccable hospitality to elevate your stay. Discover the essence of at Niraan – The Tent City, Varanasi where tranquillity, culture, and luxury converge in perfect harmony.