Conveniences and Luxuries
Rate Per Night for 2 Persons*
Room + Breakfast
+ Guided Tour
Room + Breakfast +
Lunch/Dinner + Guided Tour
Room + All Meals
+ Guided Tour
*All rates are exclusive of taxes
Conveniences and Luxuries
Rate Per Night for 2 Persons*
Room + Breakfast
+ Guided Tour
Room + Breakfast +
Lunch/Dinner + Guided Tour
Room + All Meals
+ Guided Tour
*All rates are exclusive of taxes
Conveniences and Luxuries
Rate Per Night for 2 Persons*
Room + Breakfast
+ Guided Tour
Room + Breakfast +
Lunch/Dinner + Guided Tour
Room + All Meals
+ Guided Tour
*All rates are exclusive of taxes
**The above rates are on double occupancy/night and GST @ 18% shall be charged as extra.
** Rates on single occupancy basis will be 75% of the basic cost (75% of double occupancy amount).
** In case of triple occupancy, any person above 6 yrs of age will be charged as an extra person (with mattress).
**Shri Kashi Vishwanath Temple darshan ticket is included in this package (subject to availability)
**Itineraries and arranged sightseeing are subject to change at any time due to unforeseen circumstances.
** 100% refund if cancelled before 20 days of scheduled arrival.
** 50% refund if cancelled before 10 days of scheduled arrival but less than 20 days.
** No refund if cancelled less than 10 days prior to scheduled arrival.
** Modification (date change) charges shall be ₹3000 per tent (18% GST extra), subject to availability and/or any rate difference.
** Name change will be treated as cancellation only.
** Note: Organiser reserves all rights to make any changes without prior notice.
By clicking the button below, you will be sent a full PDF format Itinerary on your mail where you can view all the details about Niraan – The Tent City, Varanasi and the packages.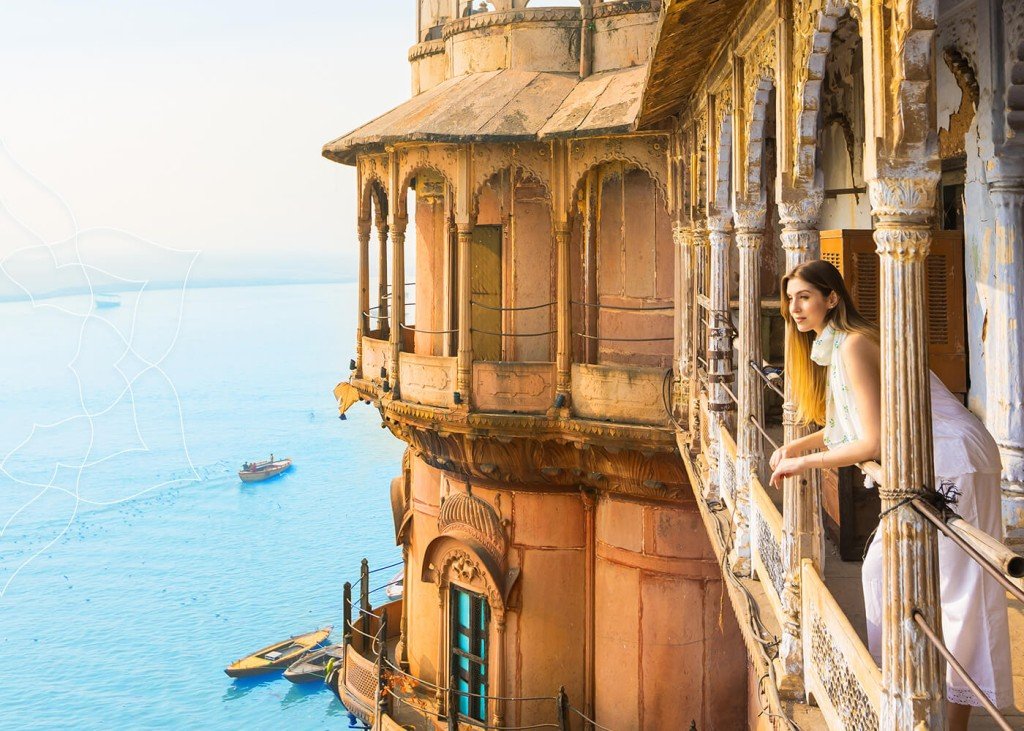 1 Night / 2 Days
DAY 1
Check-in Time: 12:30 PM
Transfer by Boat on sharing basis from Namo Ghaat to Niraan – The Tent City, Varanasi on fixed pick-up timings.
8.30 AM
10.00 AM
11.30 AM
01.00 PM
03.00 PM
Terms and Conditions
The above timings are for fixed departures and are subject to change
No complimentary transfers will be available after the above timings.
Individual transfers are available on request (chargeable).
Allotment of tents to guests arriving before check-in time will be subject to availability.
| | |
| --- | --- |
| 12:30 PM | Welcome and Check-in |
| 12:30 PM to 02:30 PM | Lunch at the Dining area |
| 03:30 PM to 05:30 PM | VIP Darshan at Kashi Vishwanath Temple Right from the guided tours and darshans, Niraan – The Tent City, Varanasi also offers you an exclusive Darshan package to the mystic Kashi Vishwanath Mandir. Situated by the banks of the Ganges the temple is one of the twelve Jyotirlingas, the holiest of Shiva temples. Located around 4 km away from the Varanasi Junction Railway Station near the Manikarnika Ghaate this towering Structure has 800 kgs of pure gold plated on it. |
| 06:30 PM to 07:30 PM | Evening Ganga Aarti by boat Doubtlessly, the world-famous Varanasi Ganga Aarti on the banks of the holy river Ganga has attracted people for many decades. Performed at the Dasaswamedh Ghaat, close to the Kashi Vishwanath temple, it is one of the most spectacular sights of the city and is visible straight from the property. |
| 07:30 PM to 10:30 PM | Dinner at the Dining area with Live Music |
DAY 2
| | |
| --- | --- |
| 06:00 AM to 07:00 AM | Yoga on the bank of river Ganga |
| 08:00 AM to 10:00 AM | Breakfast at the Dining Area |
| 10:00 AM | Check-out with Happy and Pleasant Memories |
2 Nights / 3 Days